Exhibitor Manual provides Exhibitors with important information and services to prepare for their exhibition and pre-show promotion campaigns. Please read it thoroughly, fill out the Service Order Form(s) according to your needs, and submit to us or our service providers on or before the stated deadlines. Pay attention to those sections marked as'NEW!' to learn about few changes and new regulations this year.
Attention:
Exhibitor Manual is available in PDF format only. Please download and print the PDF file(s) if you wish to have a print copy.
User ID and Password have been provided to Exhibitors by email and by post together with the Exhibiting Contract. If Exhibitors would like to retrieve their User ID and Password, please contact the Organizer by email: service@sfchina.net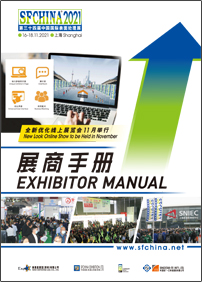 Exhibitors can send customized WeChat Invitation (in Chinese only) with their company name, booth number and designated 'Exhibitor Invitation Code' to invite their target customers / visitors to register for free on our official WeChat platform starting in August.
Successfully registered Visitors will receive an E-Pass with QR Code. Visitors can enter the exhibition halls after having their identities verified and scanning the QR Code onsite.

The 'Final Reminder' has been uploaded to the online 'Exhibitor Service System' to inform Exhibitors of all important information of the exhibition. We shall greatly appreciate if all your key personnel attending the exhibition can take some time to read it carefully to get themselves familiarized with important notes and procedures.
Attention:
The 'Final Reminder' is only available in PDF format. You may download the PDF version and print from your own printer if you want a print version.
User ID and Password have been provided to Exhibitors by email and by post together with the Exhibit Contract. If Exhibitors would like to retrieve their User ID and Password, please contact the Organizer by email: service@sfchina.net