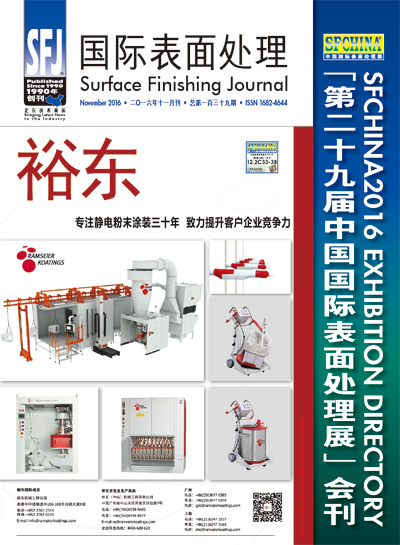 A BILINGUAL JOURNAL SERVING CHINA & ASIA PACIFIC REGION
An Integrated Print and Digital Platform that Serves the Finishing Industry
Founded in 1990, SFJ is a bilingual (Chinese/English) technical / trade journal and an integrated platform of print and digital editions for the Finishing industry.
SFJ keeps industry players up-to-date on the must-know topics of the industry, such as market news, technological advancements, new products and services.
SFJ is published 4 times a year in March, June, September and November, with a print circulation of 9,000/issue and a digital distribution of 4,000/issue.
As the official publication for the SFCHINA series of exhibition, SFJ has a print distribution for the SFCHINA exhibition directory during the show.
Strive to Help Advertisers to Reach Prospects
Global manufacturing sectors like automotive, aircraft and electrical appliances are entering the recovery stage, driving strong demand for the finishing industry. It is expected that the market size of the global finishing industry will reach RMB100 billion by 2020. SFJ's circulation and demographics cover these prosperous sectors to provide qualified prospects for your brand.
Customers can tailor your advertising programme through SFJ's affordable, value-driven print and digital options to meet your company's marketing needs. Our quality editorial assures every issue is an engaging platform to showcase your company and products to your target audience.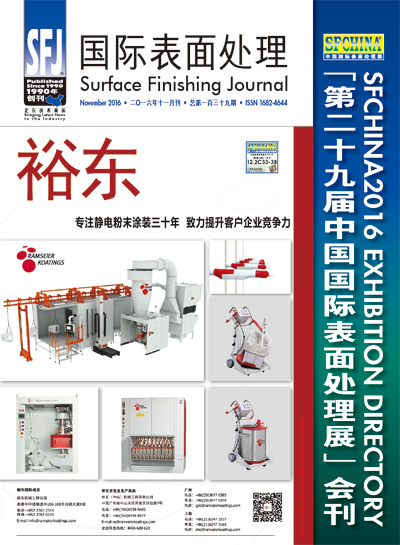 HOW SFJ DIFFERENTIATES ITSELF FROM OTHERS
Official Publication for the SFCHINA Series of Exhibition
SFJ is the official publication for the SFCHINA series of exhibition and thus enjoys most privileged channel of distribution exclusively to trade visitors by distributing 'SFCHINA Directory' to the show visitors. Exhibitors can rely on SFJ to capture attendees' attention and maximize on-site exposure while non-exhibitors can convey your messages through our journal to locate more sales leads.
Proven Editorial Judgement and Industry Expertise
Our editorial team and contributing writers comprise of industry experts and consultants to ensure a careful and proper editorial planning in each issue. Our feature articles cover new technologies and innovations, market trends, new product releases, renowned supplier profiles, interviews of prominent enterprises and specialists, and much more.
A Unique Bilingual Trade Publication with Qualified Readership
SFJ is the ONLY bilingual publication being actively circulated to the finishing industry in China and Asia Pacific region. Your ads will reach industry professionals and decision-makers of the industry.
Expand the Reach of your Advertising Campaign via Our Integrated Exposure
In addition to the print edition, SFJ is distributed electronically to our subscribers and SFCHINA visitors. Your advertising message is further reinforced by our online audience of www.sfchina.net. For the same rate, your ad will appear in both our print and digital editions with no extra fees!
CIRCULATION INFORMATION
Surface Finishing Journal (SFJ) is published by Sinostar-ITE Int'l Ltd., with its registered office at 2101-2, 21/F., Jubilee Centre, 42-46 Gloucester Road, Wanchai, Hong Kong. SFJ is published in four issues a year, in March, June, September and November.
ISSN of SFJ: 1682-4644