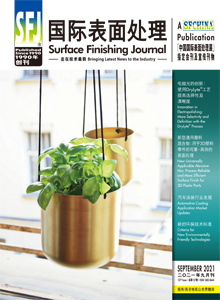 CURRENT ISSUE
September 2021
PUBLICATION DATE
September 15, 2021
Content
Editor's Note
Positives from COVID
— Darrell J Reeve
It is commonly believed that many of the changes to the way we live and work will remain as permanent fixtures after COVID or any other such pandemics or major future events.
Electropolishing
Innovation in Electropolishing: More Selectivity and Definition with the DryLyte® Process
— Marc Soto, PhD (Lead Chemist & Intellectual Property Manager), David Gutiérrez, PhD (Test Lab Manager), Paul Berenguer (Test Lab Researcher), GPA INNOVA, Spain
In the recent years, a high interest has been generated in the novel DryLyte®, the dry electropolishing technology, due to the excellent finishes, ease of implementation, and improvement of surface properties such as biocompatibility, increased corrosion, fatigue life, wear resistance or premature aging, among others.
3D Printing
New Universally Applicable Abrasive Mix: Process-Reliable and More Efficient Surface Finish for 3D Plastic Parts
— Rösler Oberächentechnik GmbH, Germany
With its latest development of a new media type for post processing of thermoplastic components, printed with the MJF (Multi Jet Fusion) and SLS (Selective Laser Sintering) technology, AM Solutions – 3D post processing technology is further expanding its product portfolio.
Automotive Coating Applications
Automotive Coating Application Market Updates
Benefiting from the market's demand for vehicles, quality automobile coating is still the focus of the industry. Quality of coating application is a key factor in the success or failure of an enterprise.
Environmental Challenges
Criteria for New Environmentally Friendly Technologies
— Darrell Reeve, Managing Director, Cleaner Production Australia, an independent environmental consultancy; Tertiary qualifications in Applied Chemistry, Production Management, Metal Finishing & Chemical Engineering; Member, Institute of Materials Finishing
Way back in 2008, we published a paper on Natural Capitalism in Surface Finishing. In our last issue, we emphasized the current and critical need for Environmental Sustainability in our industry. This current article will seek to combine these two philosophies and look at how new technologies can achieve both goals.
Regular Columns
Product Showcase
Trade Shows & Forums
Advertisers' Index